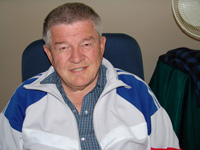 19 Bethel Driver
Sherwood Park, Alberta
T8H 2H1
(780) 669-0938 Home
(780) 964-5567 Cell
bruce@techonfoot.com
---
Qualifications
Webpage designer for many years - presently looking after 20 webpages.

30 years as a teacher, and now now retired ending up in the Computer Field.

Very strong organizational skills

Excellent computer skills

10 year's experience in teaching high school and Regional College classes.

Have been very active as an educator, working on special projects and developing curriculum.

Not only an educator but a student and a learner as well. I feel it in most important to be a Role Model for students and that can be accomplished by being a student myself.
Education
Bachelor of Arts and Science, Bachelor of Education from the University of Saskatchewan 1970, retired June 30, 2000 after 30 years of teaching.
Concentration in Computers, Biology and Chemistry.

Have taken many short courses on Computers and the Internet to improve my knowledge of computer teaching.

All 30 computers in my class in the last 8 years were hooked to the Internet. I was in charge of this classroom in the final 10 years of my career. I was involved in designing the classroom. I fixed all the computer problems and setup the network and administered it as the years progressed.

Retired after 30 years of teaching Science in the early years and Computers in the last years of my career.
Relevant Experience
· Environmental Consultant for 3 years in Saskatoon 1973 - 75
· Science Consultant and demonstration teacher for 5 years in Saskatoon 1972 - 76
· Mediator for Saskatchewan Justice for 3 years in Nipawin, Sk 2000 - 2003
Held an International Computer Camp for Rotary Exchange students from all over the world for 5 years in Nipawin, Sk. 1995 - 2003

Auxiliary RCMP for 5 years in Nipawin, Sk 1995 – 2000

Instructor at the Cumberland Regional College in Nipawin for 15 years

Proctor for a first year University of Saskatchewan Geography class at the Community College.
Present areas of expertise
Design and implement web pages for both commercial and personal sites

Teach people how to use computers for doing Word Processing and other applications

Putting sound files into a Tsuut'ina dictionary

Fixing all kinds of computer problems, eradicating viruses and spyware

Designing websites for web TV as a specialty area.
References
·
Barb Allard, Edmonton 780-455-6465 work
·
Jeremy Rittwage, Edmonton 780-469-5431 home
·
Ron Krieg, Nipawin, Sk 306-862-5914
·
Ken Manning, Sherwood Park 780-449-3190
·
Gary Donovan, Calgary 403-286-2989
·
Lucille Lewans, Ardrossan 780-922-5420
Other references available on request.